About

Ross Landcare, LLC

Ross Landcare has a proven track record for providing exceptional landscape design and maintenance to residential and commercial customers in Southeast Wisconsin, including Franklin, Oak Creek, Greenfield, Racine, Caledonia, Cudahy and surrounding communities, since 2010. Our team is most admired for our superior customer service, professionalism and true passion we bring to every project we are a part of.

Our Customer Commitment
Ross Landcare sets the highest standards for every job we do:
100% Satisfaction Guarantee - our job isn't complete until you're satisfied
Open Communication – our team will keep you updated on project timelines and budget throughout the entire process
Clean & Professional Appearance of our employees when they are on your property
Eric Ross, Owner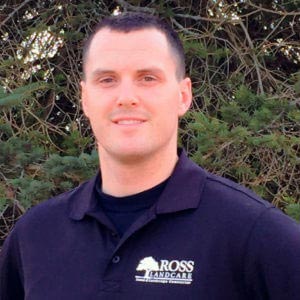 Eric has an eye for landscape projects, large and small. He started the business in 2010 as a lawn maintenance service and quickly developed the business to where it is today. Eric is involved at the beginning of each landscape project and works closely with his customers and his team throughout the project until it is complete.
They were professional. Speedy. Knowledgable. My whole experience was positive . I would definitely hire them again!!!!
Ross Landcare is very professional. They were completely able to change the look of my yard and fit everything within my budget. I would definitely recommend them to anyone who is looking for a landscape company. I can't wait to enjoy my yard this year.
Eric Ross and his crew did an excellent job of "dressing up" my small garden space in front of my patio. Eric listened to all my concerns and made my small job seem as important as any large project might be. I would recommend Ross Landcare for any size job!
Constance K.
Oak Creek, WI
Customer service is above expectations. They listen to your needs and advise options. They deliver what they promise and more. Very professional and extremely reasonable. They definitely take pride in their work!! Very meticulous. Paid attention to detail.
Employees did great work. Very meticulous. Paid attention to detail. Completed the work on time and on budget. The owner was great at making suggestions to enhance the landscape but also listened to our thoughts on what we wanted the final install to look like. Would highly recommend this company.
Kathleen C.
Oak Creek, WI
From begin to end a very positive experience. Eric responded always immediately understanding my particular requests. He granted me his entire attention, although this was a very small project to Ross Landcare compared to other project they have handled in the past. The crew which finished with the planting etc. was very professional, fast but precise in their work. As the Vice President of our condominium association in Cudahy I will strongly consider Ross Landcare to maintain our common areas. Who ever will contract the services of Ross Lancare will not be disappointed. Due to this experience I do highly recommend Ross Landcare.
They were very patient with all of my requests. Wanting to do as good as they could to satisfy my needs.
Prompt and very good value. We were very happy and have hired them for additional work now.
Great guys. They always do the work they promise and go above and beyond.
Honest and helpful very fair pricing
Commercial

Landscape & Snow Removal Clients